Favorite Picture Books
Elizabeth, Queen of the Seas
by Lynne Cox, illustrated by Brian Floca
What happens when a seal loves your city, your sidewalks and your streets? You make a seal crossing sign and let her be. This is a true story of a seal in Christchurch, NZ who was determined to make her home in the city. My animal-loving five year old enjoyed this story and the illustrations are cute.
One Frog Too Many
by Mercer Mayer
While readers may want words to tell them the story, this one relies on expressive frog eyes. And it works. We liked this fun, little wordless book.
And Then It's Spring
by Julie Fogliano, illustrated by Erin E. Stead
This is not your typical spring book; it features more brown than green, but it tells the story that most seed-planting gardeners will recognize. The planting, the watering, the waiting, oh the waiting. The illustrations are fun, simply drawn, and uncrowded.
Blue On Blue
by Dianne White, illustrated by Beth Krommes
Written as a poem, the illustrations and the words carry you through a stormy day and night at a little girl's farm home. It was refreshingly different.
Chapter Books
The Penderwicks at Point Mouette
by Jeanne Birdsall
It's probably not a good idea to start a series with the third book, but I did anyway. I thought I would pre-read this before handing it to my eleven year old son. I'm glad I did. I think he read the first one several months ago and when he brought it back to my room along with a few other other books, I asked him what he thought. He just shrugged and didn't really have much to say except that he didn't really like it. He preferred his
Unfortunate Events
series. I preferred
The Melendy Quartet
series myself. I know this series has received rave reviews, I just didn't care for it as much as I thought I was going to at the beginning of the story. I knew I didn't like the boy-obsessed middle sister character, but it was a review on Goodreads that reminded of that popular theme in many modern books for older children,
angst.
I prefer less
angst
in my books, I think I get enough in real life.
The Minute Boys of Lexington
and
The Minute Boys of Bunker Hill
by Edward Stratemeyer, illustrated by J.W. Kennedy
I am listing these two titles here although they have been read over the span of two years as read alouds in our Morning Time. The first book, The Minute Boys of Lexington introduces us to the various characters and families who see the first moments of the American Revolution. The second book, The Minute Boys of Bunker Hill follows the story as the war spreads to Boston. Seth, my eleven year old, loved these books and hated it when Mr. Stratemeyer employed the terrible chapter-ending cliff-hanger. The main character, a teenaged Roger Morse shows character and courage beyond his years in both caring for his family and his country.
Nonfiction
The Open Garden: A Story With Four Essays
by Christopher Milne (yes, Christopher Robin)
I truly enjoyed the four essays in this book, even if Milne managed to remind us how much he considers Adam and Eve and the Garden of Eden a fable. And for that reason, I decided to skip the story at the end of the essays about Adam and Eve. I knew I wouldn't enjoy it and I didn't want to spoil my enjoyment of the rest of the book.
I have quoted from the book previously both
here
and
here
and would love to read it again. This was the third book I read by Milne, having also read two of his memoirs earlier this year.
The Reading Promise: My Father and the Books We Shared
by Alice Ozma
I really thought this would be about the books they read together and the conversations they had about those books. It is not. It is a memoir with various chapters on different snippets of her life with her family, her father in particular who appears to be a truly dedicated children's librarian and story-teller. But the amount of dialogue she recounts in every single chapter makes you wonder exactly how much she is remembering versus manufacturing. I made myself finish it, but could not recommend it with any enthusiasm.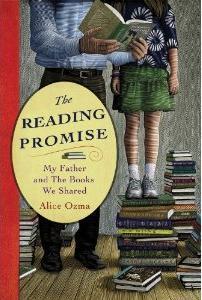 Classics and Other Such Books
Brideshead Revisited
by Evelyn Waugh
I did it! I finished this book. I started this two years ago and kept putting it down but as I
recently shared
, I found a way to help me get through the
huh?
parts until I could genuinely follow the story on my own. I listened to Jeremy Iron read parts of it and then I returned to the book and finished it on my own. I even managed to see the ending coming which I was rather pleased to know since it was taking so long for me to figure out this book.
Here is interesting discussion between Charles Ryder and Cordelia Marchmain.
"'I never really knew your Mother', I said.
'You didn't like her. I sometimes think when people wanted to hate God they hated mummy.'
'What do you mean by that, Cordelia?'
'Well, you see, she was saintly but she wasn't a saint. No one could really hate a saint, could they.
They can't really hate God either. When they want to hate him and his saints they have to find something like themselves and pretend it's God and hate that. I suppose you think that's all bosh.'
'I heard almost the same thing once before - from someone very different.'
'Oh, I'm quite serious. I've thought about it a lot. It seems to explain poor mummy."